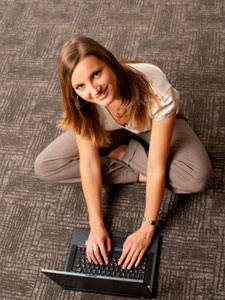 We at Legend Telecom specialise in creating a dynamic internet network for the many halls and houses of residence designed to house students during their time studying. Providing a stable and strong connection for Students to utilize while they revise and study, is a crucial requirement in this day and age. Legend Telecom has the solution for just that.
If you're a student living within Bradford, whether it be within one of the established halls, or a house renovated for student use, there's a highly probable chance there's internet wired into the property. For the most part, Legend Telecom has connections within most properties located inside the student quarter, with expansions planned to cover houses and halls not yet wired into the network.
Here's a few benefits to choosing Legend
No Data Cap – Downloading and uploading content is easy. There's no cap to how much you can download and upload each month.
Consistent Speed – Every hour & every day. Unlike other ISPs, we don't provide 'up to' specific speeds. We pride ourselves on giving you the speeds promised.
Local Support – With our technicians located in Bradford, we're never too far away if a major fault arises.
Independent Connections – With a fair and equal system in place, there's no more room for arguing over who's hogging the bandwidth at any one given time.
No peak time restrictions – Traffic is never throttled with our system, so all day, every day your connection speed will never drop or slow to a halt.
No contract – You're not tied into a set contract with us, so there's no early cancellation fees if you happen to leave earlier than expected.
Free Install – Houses with more than four students can enjoy the comfort of not needing to pay any additional installation fees. Only the costs of your chosen package.
---
What Students Need to Know
Reliable, Wireless Internet
As an independent provider, Legend Telecom doesn't rely on using pre-laid, used cables provided by large companies such as BT & Virgin. Instead, we provide a wireless web of connectivity via state-of-the-art wireless transmitters and receivers erected upon each property's rooftops, utilizing the air to give you fibre level speeds without the sea of fibre-optic cables, or unreliable slowness usually given by copper-based phone lines.
Upgrades
Are you looking for an upgrade? Not happy with the chosen speeds and looking for a faster connection to deal with the intense work/leisure needs. We can provide a faster package for you, for only a small extra cost and the upgrade is instant. Please go to "Manage my Account" and follow the instructions, if the pre-determined speeds don't hold up to your needs and demands.
---
What the Landlords Need to Know
Internet provided within student houses can usually be seen as a real hassle to keep in control. From students hogging the bandwidth to themselves, to students not paying their contributions toward their internet access, yet continuing to use the services unaffected. This is where Legend Telecom can offer a solution.
With a fully centralized system designed to manage multiple accounts, management of your students' access to the internet couldn't be easier. Has a student not paid their bills on time? Give us a call or email and their account can be disabled instantaneously. Do you want to alter the speeds of each account? That too can be changed with ease.
Payments for each account couldn't be simpler. With our system, you can either have each individual student pay separately for their access to the network with 'pay as you go' style top-ups, or include internet usage within the rent and pay for all accounts with one simple, monthly payment.
---
Support
Do you have a question? An inquiry about our services? Possibly a problem in regards to your connection? Then give Legend Telecom a call on 01274 288222 between the hours of 9am and 5pm, Monday to Friday and our staff will be happy to help you. You can also contact us via email, at support@legendtelecom.co.uk and our staff will get back to you as soon as possible.